Clean Makeup Brushes-So Go!
"Make-up clogs the pores and makes pimples". This prejudice is outdated. A good makeup is applied correctly and care guarantees no pimple-polluter. Often the reason for blemishes is occurring after the regular application of makeup, a completely different place – where suspect him the least. Who lipstick used one or the other brush. For the foundation, powder, blush, contouring and also for the eye makeup. Since some comes together. Be honest-how often do you clean your brushes?
Despite care of our skin are on the skin surface sebum, talc and also bacteria.These stick to the brush hairs. If the brush to rarely cleaned, we strain our skin with every makeup. And this favors the formation of blemishes. Incidentally, the same applies to the pillows and towels that we use for the face. So… replace more often. The regular evening make-up removal is obvious.
The retention of the brush also plays a role. Are you open in the bathroom, dust and dirt lays on it. Then there is the more important, they must be cleaned regularly. Especially critical-cosmetic bags in which brush share space with kohl, pencil sharpener, eyeshadow and Co. A paradise for dust and bacteria. For the way and traveling a brush bag is recommended. So the valuable pieces are optimally protected. The bags are available in different sizes. From 3 to 40 brushes. But even if you have to fight with no pimples. Your makeup brushes require some care in order to prolong the enjoyment of them.
Properly Clean And Maintain The Same
And how do you clean the brush now best? And how often? Foundation Brush or sponge and powder brush should be cleaned at least once a week. With brushes for the eye makeup a cleaning every 2-3 weeks (when used daily) is sufficient.
Most manufacturers now offer brush cleaner. There are special soaps, concentrated liquid detergents that are diluted with water to spray cleaners.Even a mild baby shampoo does the job. If it has to be fast times I like to use a brush and soap. With the moistened brush hair, lather into the crucible, wash out-finished.
For extra thorough cleaning, disinfection and maintenance of the brush hair though I use a liquid cleaner I slightly dilute with water (v. Beni Durrer ). Place the brush hair in the mixture, swing, lather in your hand and wash. If necessary, repeat the procedure. After that, the brushes are really really clean and smell wonderful! IMPORTANT: Do not soak. When washing "upside down" so keep water from flowing into the stem.
queeze the wet brush hair in a towel gently and smooth. lie down to dry, so that no residual moisture can run into the stem. Do not put on the heater, as a wooden handle disappears and thus is shaky.
For the flash-cleaning in between the way of pure alcohol is suitable (available at pharmacies). Place on a paper tissue and the brush gently move it.
With good care, you have many years to its makeup brushes. And the skin would be more so. It is worthwhile to schedule a few minutes for the care & maintenance regularly.
If you have questions, or even interested in a makeup advice? I look forward to your message.
Gallery
Your Skin's Worst Nightmare
Source: www.beautyhooked.com
How to clean makeup brushes
Source: www.today.com
Revamp your Make-up Brush Collection for Autumn/Winter 2014
Source: nanshy.com
How Often Should You Wash Your Makeup Brushes? Expert Advice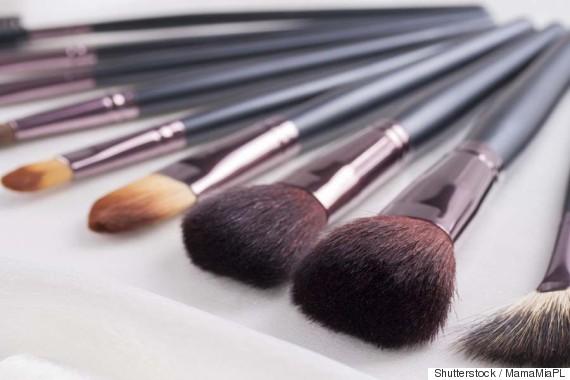 Source: www.huffingtonpost.co.uk
Everything You Need To Know About Makeup Brush Cleaning …
Source: www.youtube.com
How to clean your makeup brushes and other beauty tools?
Source: www.brunet.ca
how to use each makeup brush
Source: www.styleguru.org
The genius trick for cleaning your dirty makeup brushes …
Source: www.dailymail.co.uk
วิธีทำความสะอาดแปรงแต่งหน้าอย่างถูกต้อง
Source: issue247.com
BRUSH MEDIC Makeup Brush Dryer and UV Sterilizer
Source: prefundia.com
Batman Makeup Mask Tutorial
Source: mugeek.vidalondon.net
Forever 21 Love and Beauty Eyeshadow Brush Review …
Source: makeupandbeauty.com
how to wash makeup sponge
Source: www.styleguru.org
Steam Plus Attest Rapid 5 Steam Plus Test Pack – hibisco.info
Source: hibisco.info
Female Pirate Makeup Ideas
Source: mugeek.vidalondon.net
Makeup Apply Eyeshadow Step By Step
Source: makeup.vidalondon.net
Makeup On Fleek
Source: makeup.vidalondon.net
Cosmetology Tools
Source: imgkid.com
How to clean Makeup Brushes
Source: www.onecrazymom.com
How To Clean Your Makeup Brushes Revisited · One Good …
Source: www.onegoodthingbyjillee.com